The MGA With An Attitude


MGA Guru Is GOING MOBILE - (November 1 - November 15, 2014)


Saturday, November 1, 2014:
Hello, South Carolina. Today we have a 9:00 am club meeting with Southeastern British Motorcar Owners Club at the Beacon Drive-In in Spartanburg, SC. We have 36 slightly rowdy and very friendly car type enthusiasts discussing things done and to be. The MGA motor home was a surprise to most, but well received. There was supposed to be a cruise after the meeting, but it was canceled when it looked like rain the night before. Say WHAT? These are British cars, supposed to be rained on. Oh well. We had a jolly good time, but had to move on all too soon.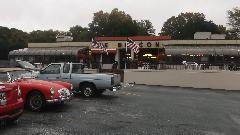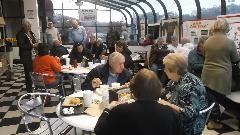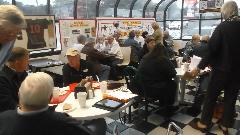 Mid day allowed some time for posting photos and notes, as well as email and BBS. By evening we had migrated southeast to West Columbia, SC, for a dinner meeting with British Car Club Midlands Centre at Grecian Gardens Restaurant. This was their annual business meeting, so they were somewhat busy for a while. Apparently no one knew we were coming, but a few people knew who we were as soon as our odd vehicle was seen in the car park. Near evening's end we were introduced, and it tuned out to be a bigger hit than I had anticipated.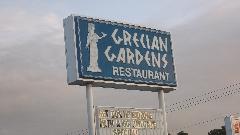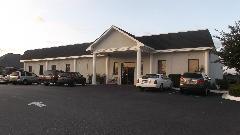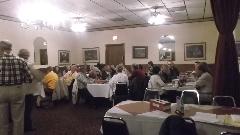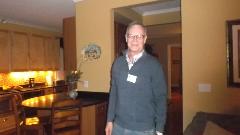 Chat continued after the meeting was adjourned. In the end Ron Platt from Columbia, SC, thought we would make good pets and took us home. His wife let slip that he had been plotting the coup for some time. After a long evening's chat I think there is an ulterior motive, something about his MGA with some problems. I recon we will find out in the morning.

Sunday, November 2, 2014: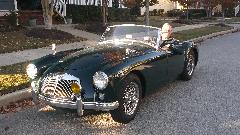 Today I was busy with the club newsletter, but I seem to have lit a fire under Ron to get him motivated. He spent most of the day re-forming the air pan on his MGA to move the radiator forward enough to clear the (big plastic) fan on the 1800 engine, getting the radiator installed, and engine running.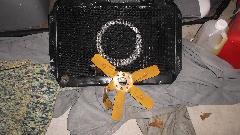 The next picture shows the reason for installation of the plastic fan.

By late afternoon we were investigating a jumpy fuel gauge. Touch any wire or tap the glass and the gauge would go nuts, something loose inside the instrument, so it had to come out of the dash for repair. Sitting at the kitchen counter with a battery charger for power supply and a pair of 68-ohm resistors in hand, we proceeded to disassemble the fuel gauge (not for the faint of heart).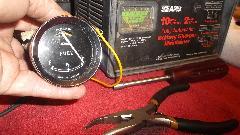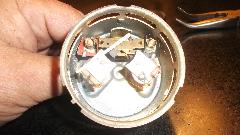 The hair size wires are intimidating enough, but every nut and screw in or on this gauge was finger loose (yikes). Fortunately the magnets were still in place, and none of the wires were broken, so it was a simple matter to tighten it all up. Calibration is a fiddly little chore, since the smallest move of a magnet makes a large change in position of the needle. But if you have a little patience and follow my instructions it comes out okay in the end.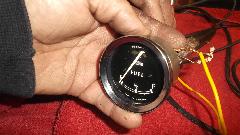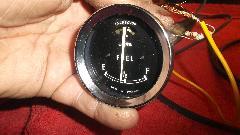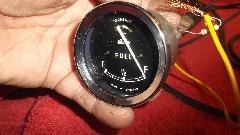 Then we set the working fuel gauge aside in favor of dinner and late night chat, followed by more web work before sleep.

Monday, November 3, 2014: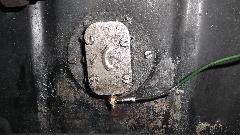 Today was a garage day. We installed the repaired fuel gauge, then went after the fuel level sender unit. Like the gauge, the stud and nuts were loose so it would likely have bad electrical connections. I was surprised it wasn't leaking fuel, but then it had been sealed all over with Hylomar, so we lucked out. Remove the lower nut and wire, tighten the upper nut, replace the wire and lower nut, and tighter securely. Ah, all is well with the world, as the fuel gauge works immediately when tested with resistors at the tank end of the signal wire.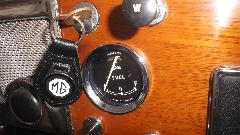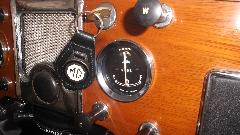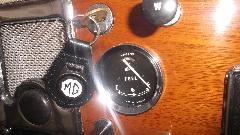 Then we were going to attempt repair of the defunct temperature gauge that had lost its working fluid.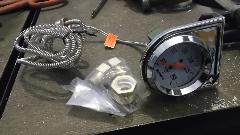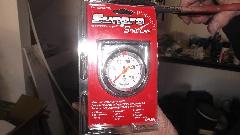 Ron picked up a cheap analog temperature gauge, Sunpro CP8207 $17.99-USD from Advance Auto Parts, from which we would (maybe) transfer the pipe and bulb with working fluid in tact to the old gauge. Unfortunately he didn't read the web page well enough, so the small brass tubing he procured for the connector piece was too fat, and the job was stopped in mid stride. Bummer. As a follow up I retrieved a working safety gauge from the traveling parts box in my trailer, tested it in boiling water, and left it with Ron for installation. We may get back to this gauge repair project later.

I later found appropriate tubing for the repair here:
--- McMaster Carr - copper tubing 1/8"OD x 0.061"ID x 36"length
$3.68 plus shipping -- M-C number 8967K86
--- Amazon -- brass tubing 1/8"OD x 0.061"ID x 12"length
$4.21 +shipping -- www.amazonsupply.com/dp/B000HJY0S2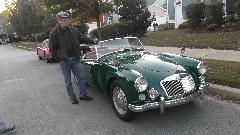 In the evening there were more dinner guests. Meet Dave and Millie Headrick from Lexington, SC. Dave has a nice MGA 1600 which he wanted me to test drive. First impression is tires with marginal grip, soft sway bar, and rough idle (running rich). I was correct on all counts. The tires are very old with rock hard rubber and need to be replaced. The front sway bar is only 1/2-inch diameter, which is better than none and will likely not be replaced. The carburetors were easy to tune, and it is now running much better. Smiles all around, and a nice evening dinner among friends.

Tuesday, November 4, 2014: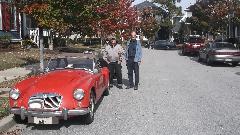 Time to toddle along, so goodbye to Ron. Today we have a few hours advance notice of another possible appointment. About 90 minutes back north we attend a club meeting with Metrolina MG Car Club in Mint Hill, North Carolina. I don't know if anyone was expecting us, but a few of them certainly knew who we were on arrival.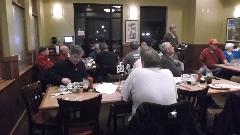 Good dinner, good people, and a good time was had by all. Several people stayed to chat after the business meeting, and we were last to leave (as usual).

Wednesday, November 5, 2014:
Today I had a nice visit with Hap Waldrup at Acme Speed Shop in Greenville, South Carolina. This guy does NICE work. We stood to chat for six hours (no kidding). I feel guilty about taking him away from his work for so long, but truth be told, he did most of the talking. We talked about cars and engines and racing of course, but also about racing groups and people and public forums and parts vendors. I may have learned more about race engines in one day than I had known from decades of prior experience. Between loss of daylight and ringing phones we had to call it a night. See more Acme Speed Shop photos on a following page.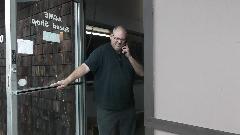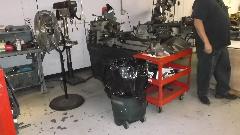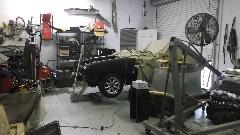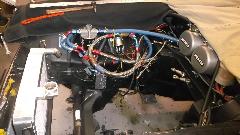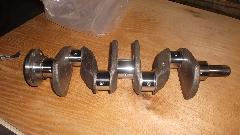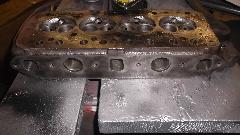 Thursday, November 6, 2014:
Today we have an appointment to see John Dusky at his restoration company Studebaker South in Inman, South Carolina. This isn't MG or British cars, but John is a member of the local British car club, and there are a few Brit bits in the mix.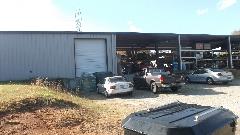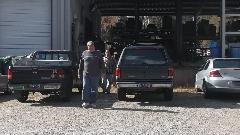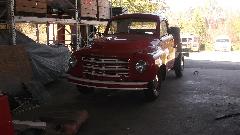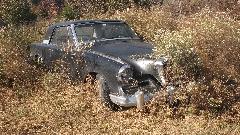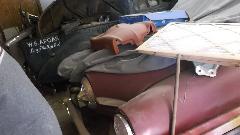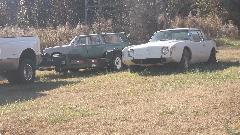 Okay, now you can start spotting the British cars.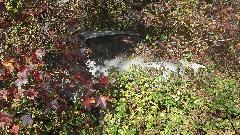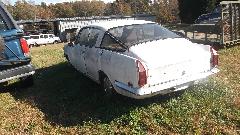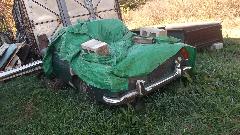 See more Studebaker South photos and notes on a following page.

Given too much time to spare, and this being only a couple miles out of or way (and free), I took the opportunity to visit the Zentrum BMW museum at the BMW factory in Greer, South Carolina.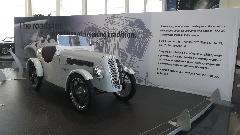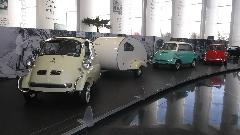 Motorcycles and race cars galore. Write your own captions.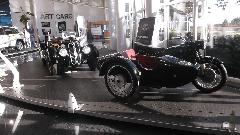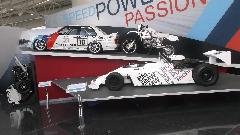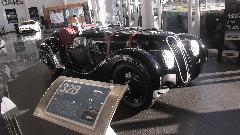 This vehicle caught my eye on the way out. Not MG, not British. It may be a one-of-a kind BMW (sort of). The story is it started as a used Dodge Sprinter van with a Mercedes diesel engine, then trimmed out inside as a luxury tour bus for shuffling visitors around the BMW campus. The BMW grille is a bit of a fudge (but cute).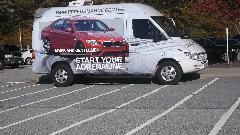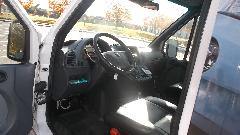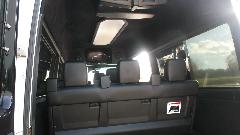 Ignore the wide screen TV (with CD player). I was interested in what it could be if trimmed out as a mini motor home. Imagine my MGA painted on the side and a "MGAGURU" license plate. It might be my winter cruiser when most sane people put their little British toys away for the snowy months in the north.
See more BMW Zentrum Museum photos and notes on a following page.

Friday, November 7, 2014:
Spent most of the day working an a club web site upgrade. But we did do some traveling before and after, getting from Greenville to North Charleston, SC.

Saturday, November 8, 2014:
Breakfast meeting with British Car Club of Charleston at Marina Variety Store Restaurant in Charleston. About 30 people in attendance. I had met a few of these people before, and several others knew about us before arrival. A good time with an active club.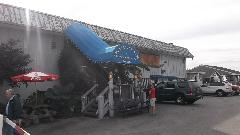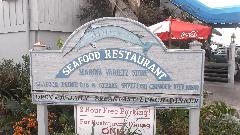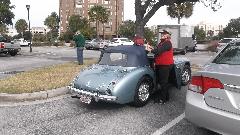 Early afternoon with Bill Howerton in Orangeburg, SC. This guy definitely has too many toys. If I got it right, eight MGC, three MGB, two MGA, a Porsche 914, a TR6 and two Ferraris. This is after he as thinned out the herd some.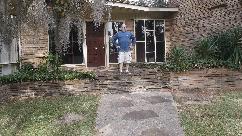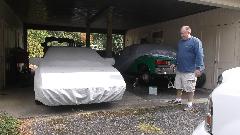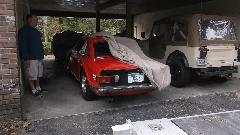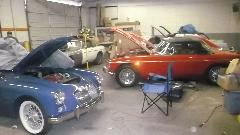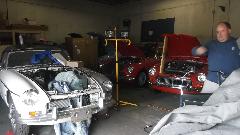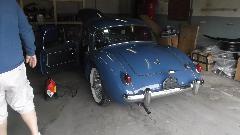 The MGA Coupe needed a carburetor adjustment, and the brakes are very stiff going down, likely needing all of the hoses replaced. Also low oil pressure at idle with hot oil, likely needing all new crankshaft bearings (and oil pump inspection). An MGA roadster is in very good condition needing not much.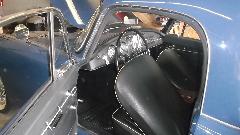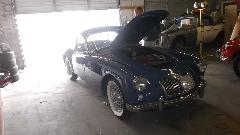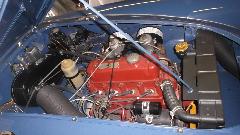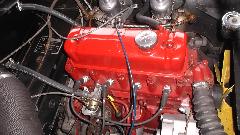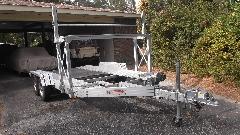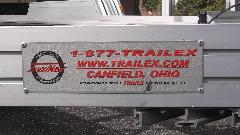 He also has a nice aluminum tandem axle trailer for car transport.

Sunday, November 9, 2014: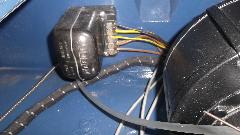 Got some work done on the blue Coupe today. Generator not charging turned out to be corroded contact points in the regulator relay. I ended up partially disassembling the regulator relay to enable emery papering the contacts. After reassembly and adjustment it works well.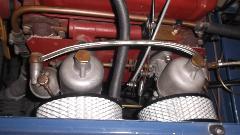 Next up was the carburetors running rich, which could not be turned lean enough. That turned out to be needles pushed too far up into the air pistons. After repositioning the needles with shoulders flush at bottom of the pistons it tune up okay.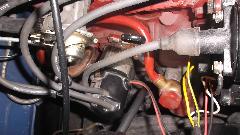 For timing adjustment, the distributor clamp bracket was upside down (bolt on the bottom with nut to the rear) making it near impossible to reach the clamp bolt. Some fiddling required to remove the distributor and turn the clamp plate right side up, but after re-installing the distributor (with Pertronics module) then timing was easy. And now it runs well.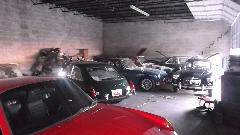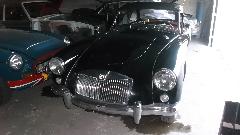 A photo missed yesterday, the second storage bay filed with MGCs, and the black MGA roadster. That one has a sticking choke jet, which will need some attention another day. Photos below from Bill Howerton.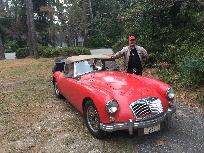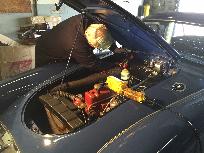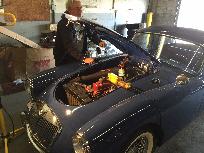 Monday, November 10, 2014:
Web work and planning day.

Tuesday, November 11, 2014:
Heading north through South Carolina, we finally get a beak from expressways in the dark and take some side roads in the daylight. We have cotton fields down here. Just across the state line we meet John Kennally in Marvin, North Carolina. The happy step goes with a couple of nice MGs.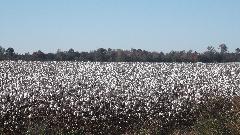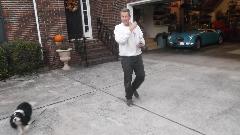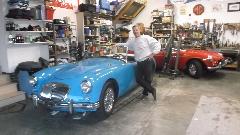 After a little chat and dinner, John thinks his MGA could maybe use a tune up, so fire it up and we'll see what it sounds like. Uh, sorry, but it sounds like crap, so shut it off. The float chambers are on back to front hanging at an odd angle, the jets are leaking profusely because the gland nuts are loose, the jets are sticking on half choke, and the needles are binding on misaligned jets. This calls for full dismount for un-stick and reassembly with proper alignment.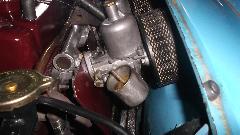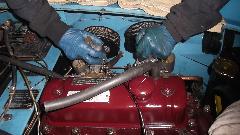 After the carburetors are reworked and reinstalled it still runs bad. At least one cylinder is low on compression, and a few rocker arms are out of adjustment. That fixed, compression is restored to acceptable levels, ignition timing is in the ballpark, and it still runs bad. Time to call it a night, so we expect to be back at it tomorrow.

Wednesday, November 12, 2014: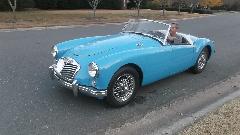 After a good sleep, again in the light of day, figuring the carbs and compression and timing are about right, it must be an ignition problem. Sure enough, two of the HT wire ends were loose, and the wires were carbon core, burned out at the ends and required trimming. The distributor drive gear was one tooth off, so the distributor needed to be turned 40 degrees so the vacuum pipe either couldn't be connected or prevented correct spark timing. After realigning the distributor drive gear, reinstalling the distributor, reconnecting the vacuum pipe, and resetting the timing, it ran much better, but still running rich, even when adjusted full lean. Solution there was to lower the needles 1/32-inch to regain mixture adjustment range, after which it tuned up and ran fine. Conclusion is that the needles were once rubbing on misaligned jets, causing worn needle and worn jets, leading to the overly rich mixture. In the end, the proof is in the smile on the driver.

Thursday, November 13, 2014:
A short jaunt today to Monroe, NC, to visit Bob and Lynda White. On arrival Bob and a couple of neighborhood friends are on hand to greet us. The blue car is Bob's beautiful 1963 pull handle MGB, a nice daily driver car. Next up is another MGB wearing a hard top and sort of begging for a repaint. It occupies the center space of the two car garage, leaving space for Lynda's daily driver car, a newer Mazda Miata (not currently present).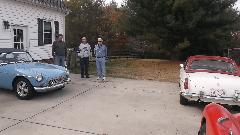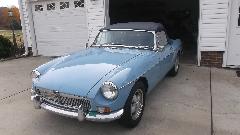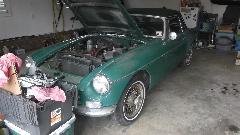 Down the hill a bit we find the toy shop, at first glance containing an MGB with a fresh paint job. I am assured there is another MGB in here somewhere. Oh there it is. I suspect this one is somewhat lower on the priority list.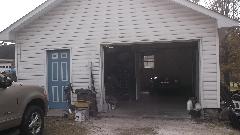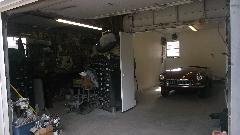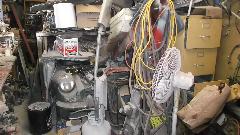 The current project has a gorgeous paint job and is in the process of reassembly. It won't be long now. No assistance needed here, as the world is progressing nicely. So we are off to a late lunch at the local bistro. Did I mention the pull handle MGB as a really sweet car? And I borrowed a grease gun to lube the front suspension here (about two oil changes overdue).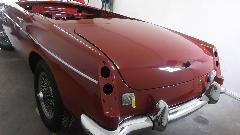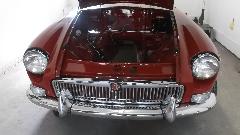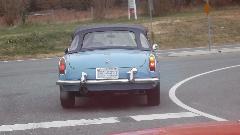 The late lunch ran into later chat, leading to late afternoon return. Lynda arrived home in the middle of more chat, and evening hours had the Whites going out to dinner with friends. On their return ensued more chat (I think it was all about cars and clubs) until sleepy hour was upon us and it was time to turn in.

Friday, November 14, 2014:
A longer drive today, 190 miles from Monroe to Carolina Beach, NC, to visit John Merhar. They are supposed to be up there somewhere. Oh, there you are.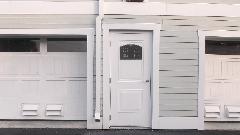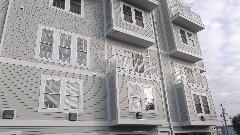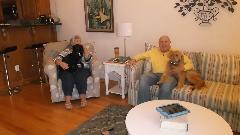 Lots of chat about cars and "things", a nice dinner out, then back for more chat until late night turn in time. This is not the place where their British cars are kept. We may get to see them again a few days later in a different location.

Saturday, November 15, 2014:
Busy, busy day today. 5:30am alarm, out the door around 6:15, about 200 miles cruising (mostly expressway), arriving Blythewood, SC 9:30 in prep for 10:00 meeting with British Car Club Midlands Centre (remember the dinner meeting two weeks earlier). Today there is a "Drive to Richburg" (tour rally) where we stopped for lunch at The Front Porch. I found 3 MGA, 2 MGB, 1 MG ZB Magnette, 2 AH 3000, 1 TR Spitfire, 1 Jaguar XKR, 2 new Minis, and pretty sure I missed a couple more.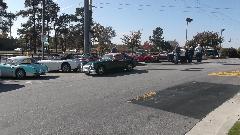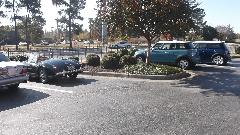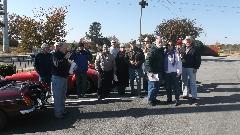 This turned out to be a fairly nice Fall Color Tour as the leaves were changing rather dramatically in a few places along the way.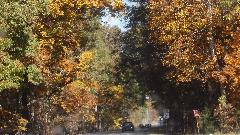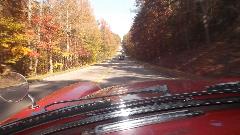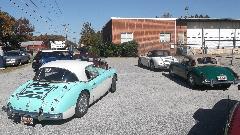 There was just one short off-course excursion, but we found the restaurant eventually.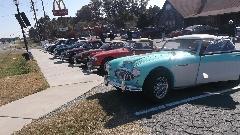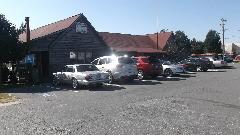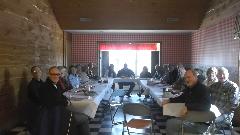 The trip back to Blythewood was a bit longer and even more delightful. One car that particularly struck my fancy was this somewhat "upgraded" MG ZB Magnette. It carried a GM V6 engine (4.1-liter I think) with 4-bbl carburetor, automatic transmission, alternator, air conditioning, TR6 wheels shod with 205-70-15 tires, front disc brakes with 4-pot Wildwood calipers, brake power booster and dual line master cylinder. The little rectangular part below the master cylinder is a proportioning valve.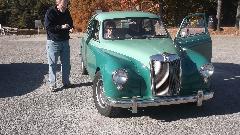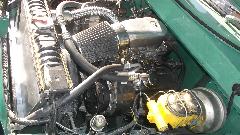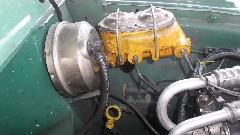 Incidentally my friends Ron and Cindie Platt were here in their MGA with the top down all day. Remember the temperature gauge unfinished repair two weeks ago? Earlier in the week I had ordered up a piece of 1/16-inch bore copper tubing and had it shipped to Ron's home. This evening we took a slight detour to Lowes hardware to buy a few 5/64-inch drill bits needed to modify the tubing to make patch coupling sleeves for the gauge repair. Then we dropped by Ron's place momentarily to cut the tube into a few shorter pieces and retrieve some for myself. Severely short on time, both his and my gauge repairs will wait for another day.

But we're not finished yet. Having lost daylight savings time, darkness falls early as we head north to Monroe, NC, again. Here we are to visit Ronnie Laney who has an MGA 1500 with 1800 engine. This has body and interior restoration done some time ago, looking pretty nice, but has not run for a few months. We would have fired it up, except it had very dead battery.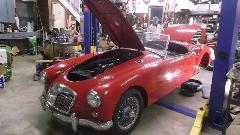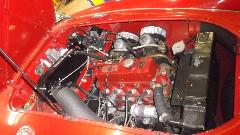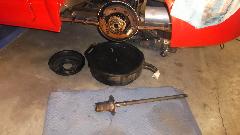 We did spend some time investigating driveline backlash and discussing badly worn hub splines and the cost to replace wire weels and splined hubs.

About midnight there is unseasonable frost on the trailer, and we are off to find a motel for the night (compliments of our host). The first attempt in Monroe was booked up, but we found a place at the I-485 belt way near Charlotte. Long day indeed.