The MGA With An Attitude


MGA Guru Is GOING MOBILE - (September 16-September 30, 2014)


Tuesday, September 16, 2014: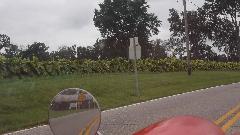 Today is a travel day heading north on US-42 in Kentucky, then north on US-421. We finally see full gown tobacco fields near the road to match the drying barns and a few loads of tobacco traveling up the highway. After crossing the Ohio River into Indiana we switch to IN-7, and the terrain ultimately turns flatter with straighter roads. We chug along federal and state highways for nearly six hours thinking we've seen all this before, and of course we have, long ago. By day's end we are near Hanna, Indiana, to visit and spend the night with brother, having passed this way four months earlier.

Wednesday, September 17, 2014:
Set the alarm for 5:00 am, hit the road by 5:30 heading northwest (sort of). A little after 8:00 am, drop Elliot off at College Of DuPage in Glen Ellyn, Illinois, as he has an appointment with friends. I then have time to catch up with a couple days backlog on WiFi, banking, pay some bills. Then make a key phone call for next appointment, and drop in to visit Logan Aschom in Naperville (big guy center of first photo).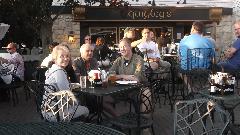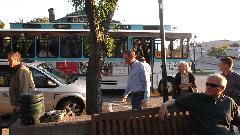 He has a couple of MGs currently stashed in SW Michigan, but likes to talk about MGs anyway. We will stay here tonight. There is some chance we may visit his MGs in Michigan next week end. Meanwhile we have dinner at a local hang out with a few neighbor friends. Then I pick up (retrieve) Elliot and return for late night chat with Logan and his wife (not in picture).

Thursday, September 18, 2014:
Missed an appointment for lack of contact information. Got an email later informing me of some unavoidable personal business preventing an earlier reply. Will have to reschedule later. With a little spare time available, Elliot booked into a card tournament late afternoon to early evening. Then we took an old friend and his family to dinner, followed by overnight stay with my younger daughter. Nice way to spend a day off.

Friday, September 19, 2014:
Dropped Elliot off at COD again, then headed for my next appointment.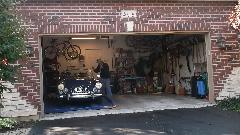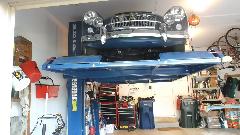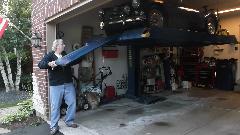 Today I spent several hours with Gerard Geraci and his MGA Twin Cam in Naperville. He has a nice single side post lift that doesn't take up much space in the garage, and can be used for double stacking cars.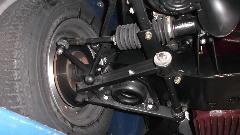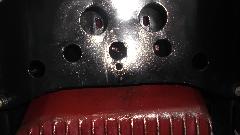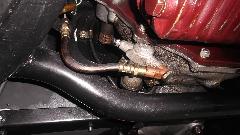 It has a factory type front sway bar which was not available until after this (1500 body type) car was produced, so that would be a nice aftermarket upgrade.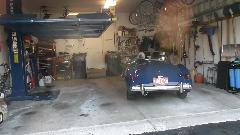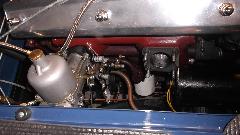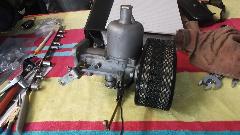 The twin carburetors were way out of whack, one with sticking choke. Had to R&R the front carb for access to bottom end to disassemble the main jet and jet bearings and jet seals, clean and polish the small bits, oil and realign the jet bearings, and then reassemble all. In the end we had it purring fairly well, so the test drive raised a few grins.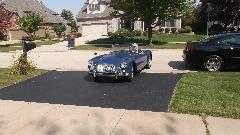 This Twin Cam has been converted to the later type low compression pistons, so it is a bit down on power like the latest production cars. It also has a close ratio gearbox, so it was a bit slow getting off the line when the traffic light turns green. Standing on the throttle to launch it results in clutch smoke rather than tire smoke, so the CR box needs some finesse for street driving. A competition clutch might help. Not my cup of tea. My 1600 with standard gearbox is much easier to drive in city traffic. I could only tell the owner that he might sometime consider switching to standard gearbox for touring, as he has no intention toward competition. All in all a nice day with a very nice car.

Saturday, September 20, 2014:
Early rising and a run into Chicago to drop Elliot at a downtown Hotel for is weekend game tournament. He will stay in the city with a friend tonight. Immediately bail out back to the burbs with some time off for fun. I join up with a local cub friend and take his MGB to Meadowdale Raceway for an annual celebration of the vintage race track. Will post some MG pictures here. See following page for lots more vintage cars.

MGs are alive and well in Chicagoland. MG TF at the track site. Track entrance, and part of the original track beside modern asphalt strip. When it rained we bailed out a little early.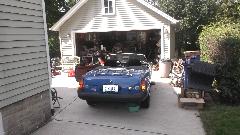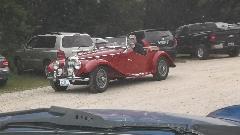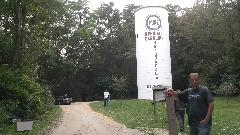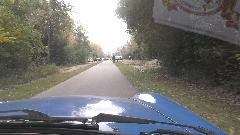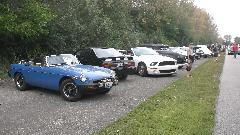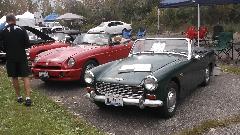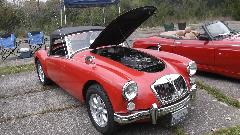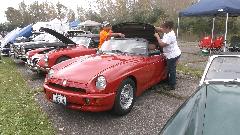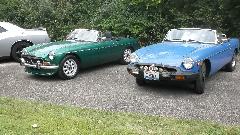 Sunday, September 21, 2014:
Sunday's appointment canceled, and just as well. This turned out to be a grunt work day. I changed a rear wheel bearing on my old Mazda RX7 (which younger daughter is now driving) in Downers Grove, IL. That was a royal PITA job. Did a run to my storage locker to pick up some big boy tools. Did another run to a friend's house to use his hydraulic press. Finally finished the job in about six hours.

Checking email, received a message about a bloke reassembling an MG Midget after a professional repaint. Plugged his address into Mapquest and discovered it was very close to my evening's planned route with about 20 minutes to spare. So run to the storage locker in Romeoville, IL, first to return the tools (before 7-pm closing). Then hop on I-55 toward the city, and bail off near Midway Airport. After a few turns and getting caught by a freight train for a few minutes, I made my way down an alley to find Steve (Sparky) Sparks playing with his pride and joy. Hello, nice car, nice toys, nice work, 20 minutes, sorry, gotta run.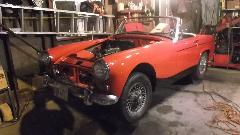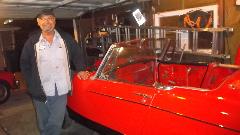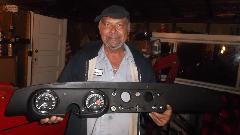 Back up Central Avenue, fast run on I-55, make it up Lake Shore Drive, turn on Balboa and Michigan Avenue. Pick up Elliot at the hotel where he has been having fun for two days and head out of town back to Downers Grove (where pizza was waiting for us). Busy day, now time for a rest.

Monday, September 22, 2014:
Seems like the Guru had a day off, so I turned into a tourist again. A friend living in Chicago felt the need to escape from the city for a day, so he drove out to the western suburbs. We unhitched the trailer and took the tail-free MGA for a day cruise down Route 66. Beginning Romeoville, IL, going to Bloomington-Normal, IL, if you take I-55 the trip would be less than two hours one way. Running on Historic Highway 66 (US-53 most of the way), you can add 40 to 50 minutes if you never stop. Stopping for photo-ops and lunch in a historic diner, add another 90 minutes or so. The return trip was about 1/3 expressways, to skirt around city traffic at both ends, but still 2/3 old Route 66 at a casual pace. With a few small detours we did 240 miles in about 7 hours.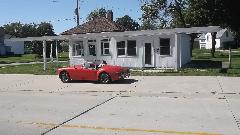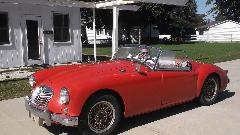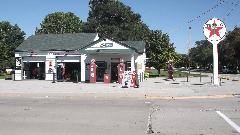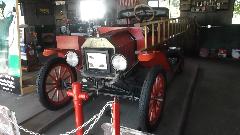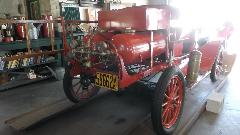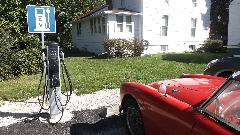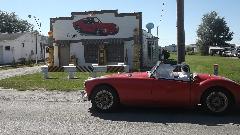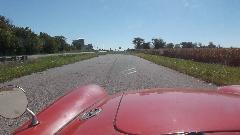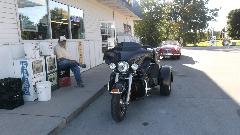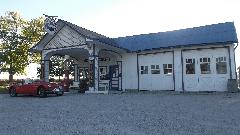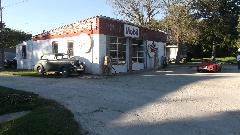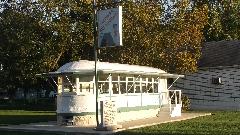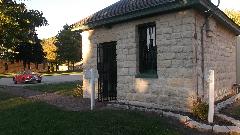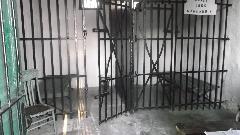 Tuesday, September 23, 2014:
Day off. Navigator spending time with his friends. Driver spending time with daughters. Driving after dark, something fell on my left foot. Checking later, I found the spring and cover from the dipper switch lying in the carpet.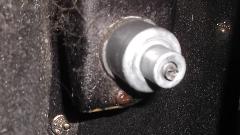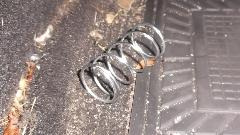 I recall the same situation about 25 years ago. At that time the riveted end of the exposed shaft had let loose to drop the switch cover and spring. My expedient solution was to drill and tap the end of the shaft and reassemble it with a small screw and flat washer. This time the spindle with the tapped hole has split out the side and appears to be non-repairable. Kicked it too had too many times I guess. Now I'm a bit disappointed that this repair only lasted 25 years (and about a quarter million miles). Then again, that's longer than the original switch lasted before breaking the first time. Note to self: Buy that new dipper switch that you wouldn't buy 25 years ago. Meanwhile, drive with low beams only.

Another issue just popped up. The new brake light pressure switch I installed on July 29 is requiring higher than desirable pedal force for switch contact. Need to keep en eye on this one.

Wednesday, September 24, 2014: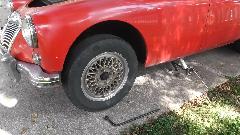 Late morning I finally take the time to nudge the shaft seal back into place in the LF shock absorber. Remember that issue from month earlier? Well it was a really easy fix, so of course I should have done it long past. When the seal and new oil back in place the shock works again and the ride is back to MG standards. We will wait to see if the oil stays in place.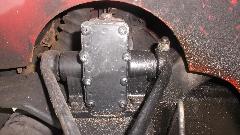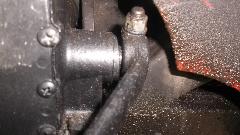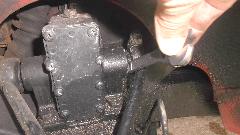 Been hanging around the old home area long enough. Time to get out of town. Late start, visit a friend to return a tool. Run the Eisenhower expressway (I-290) east to the "spaghetti bowl" (downtown Chicago), then run the Dan Ryan expressway (I-90/94) south to I-80. This move is to avoid high tolls for the trailer on a tollway. Then cruise I-80/90/94 east into Indiana before split off on I-94 into Michigan (finally). Lost an hour to change of time zone, now after 4-pm, getting too late for business hours visiting, so quick WiFi stop to lay new plans. We decide to take the lakefront scenic route from Benton Harbor to Holland, MI. Good move, quiet cruising, some of it on 25-mph local roads, nice sunset.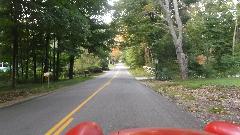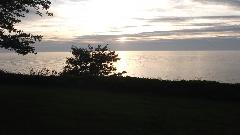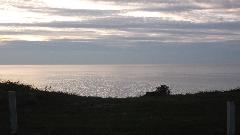 We run into Holland, MI, and drive past Eclectic Motorworks where we intend to visit next morning. Lo and behold, the shop is still open at 8-pm with Carl Heidleman in the office and a few more people in the shop. Carl's son has just finished installing a Z3 engine into his Beemer sedan, so it will go like scat. A couple of college students are welding a tube frame for a new formula SAE race car.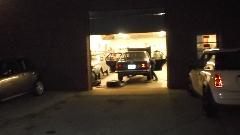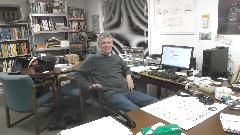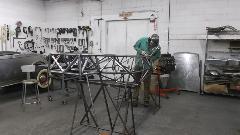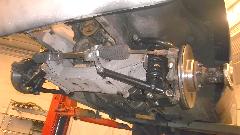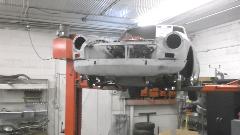 MGB with front coil-over suspension installed.

From the pictures you may see why the place is named "Eclectic".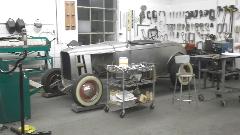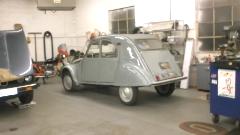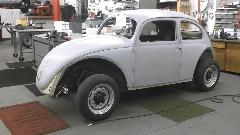 Thursday, September 25, 2014:
Short trip today to visit University Motors, Ltd. at their new (3 years ago) facility at 4571 Patterson Ave SE, Grand Rapids, MI. The place is fairly large, so find more pictures on a following page. None of the cars in these pictures are for sale. What we see when we walk in. Say hello to John Twist, proprietor.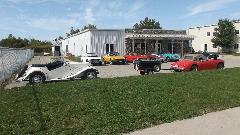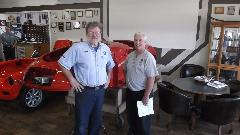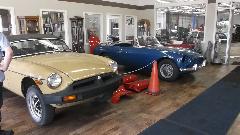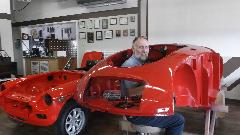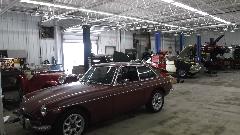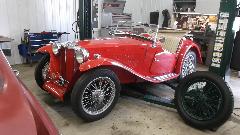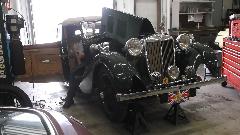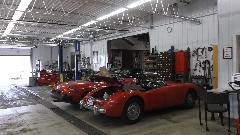 As busy as this place is I'm sure they can handle your MG job too.

Friday, September 26, 2014:
This will be a busy day. First stop is Engle Imports, 5850 Stadium Dr, Kalamazoo, MI. (The best kept secret in British Parts!). The business card said "MG" (among other things). I believe this is supposed to be the oldest MG dealer in the country (although not really dealing in MGs these days). The street address puts us in front of a Jaguar dealer. Upon inquiry I am directed to a separate building behind the Chevrolet dealer next door (all under the same ownership). Good move this new building, as it has greatly increased their space for British car parts. They have several people on the sales staff to take your calls and parts orders.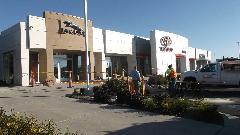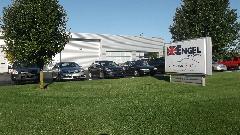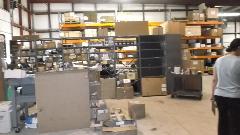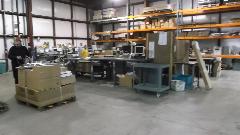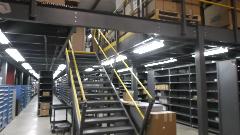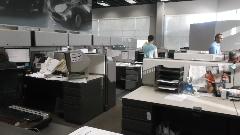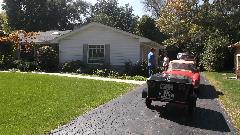 Heading to the Detroit area, we have a little time to spare so we make a quick stop at Jeff Zorn's place in Farmington, MI. This may be better known as Little British Car Company. Jeff is in Florida, but we just felt like getting the picture while we were in the neighborhood.

Next stop is a visit with Mike Parker in Garden City, MI. His immediate claim to fame is having four MGA in his garage, three coupes and one roadster (not counting one roadster he already parted out).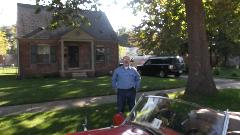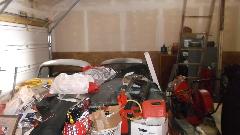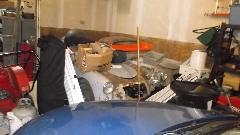 Before we got too far into that issue, the Borg Warner S550 brake light switch (from Advance Auto Parts) is dead, no brake lights with any amount of pedal pressure, slightly less than two months 5,000 miles. Mike spends some time grovelling around his used parts stash to find a spare brake switch. A bit of polishing makes it look promising, but a pressure test says no-go.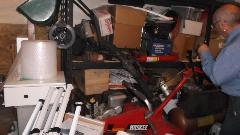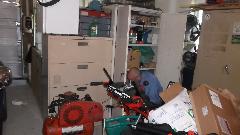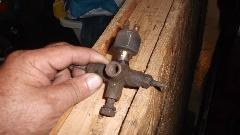 One phone call and a quick trip to the local NAPA store nets a new switch. This time Standard Motor Products SLS27T (M14168 with push-post terminals, made in Mexico). Also pick up a small package of push-post wire connectors, and a few minutes later it is installed. This one requires a 1-inch 6-point wrench socket (12-point does not work). Note to self: Put touch of silicone grease in these connectors to prevent corrosion.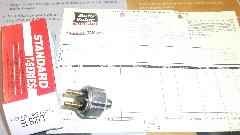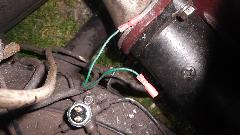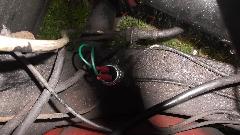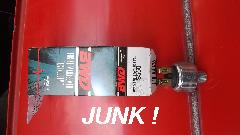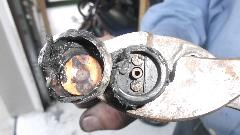 We opened the failed Borg Warner switch with a grinder to disclose the failure mode and the design-manufacturing deficiency. The contact plate is steel with a thin copper (or maybe cadmium) flash plating. It didn't take long to burn away the flash plating, after which the steel plate will corrode rapidly. Lots of driving in 60 days, 5000 miles, may have done 1000 to 3000 operation cycles on this switch. Since my trailer lights are LED's, total current for this switch is just 4-amps. A copper contact disc would be perhaps $0.02 worth of material. I can't imagine how much cost they thought they were saving by using the plated steel disc.

Saturday, September 27, 2014: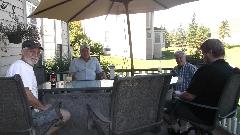 Trip to Ann Arbor, MI, today to visit Kevin Peck (center of picture at right) and a couple more neighborhood friends. Had a nice chat and mid day barbeque. With this many MG enthusiasts in one place you can't fail to have a good time. Notice a few MGA here, a couple done and running and one in early stages of restoration. Nice garage set up too.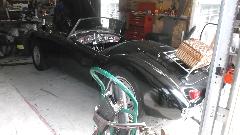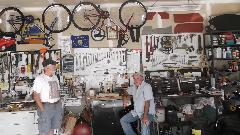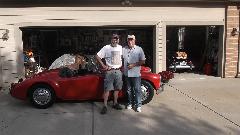 Sunday, September 28, 2014: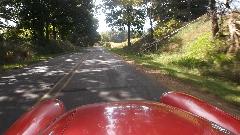 Did I mention there are some nice side roads in Michigan? I wasn't sure, as we have spent a lot of time scooting arond the interstates in the past few days. Today we are west of Battle Creek, MI, bailing off of I-94 at exit 92, heading south-west on Mercury Road. We are heading for Scotts Corner Cafe in Scotts, MI, for a luncheon appointment with members of Southwest Michigan Motoring Association (organizers of Mad Dogs & Englishmen British Auto Faire ). I believe we are at least 16 people for lunch, making some new friends who really like to talk about British cars.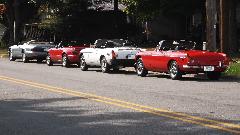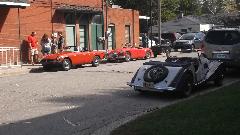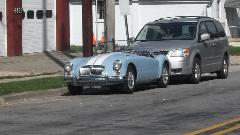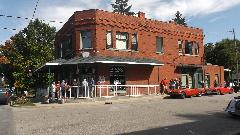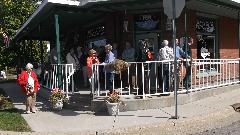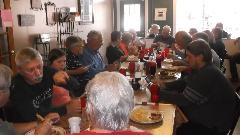 After lunch it is such nice cruising weather, so we drive several miles south and west to Vicksburg, MI. Another nice little town (much larger than Scotts), but not much happening here on a Sunday. So we drive som more rural roads just to enjoy the nice weather.

Monday, September 29, 2014:
Waited patiently for Engel Imports (englishparts.com) to open Monday morning, then struck out on the replacement dipper switch. They claim to have a new shipment of those parts in a crate just arrived on the dock, but won't be available for a few days. Bummer.


On the better side, SCORE! I picked up two 8-inch trailer tires from Discount Tire in Kalamazoo, $20 each, to be installed later (hopefully before the bald ones blow out).

Since no one was beckoning today, we turned into tourists again. Weather is wonderful summer time type in early fall as we took to the side roads to go "dot hopping" to visit small town Michigan. Plenty of history in the little towns, and lots of friendly faces too. By day's end we would visit more than a dozen small towns in southern Michigan. Find LOTS more photos and notes on a following page.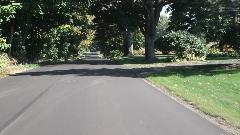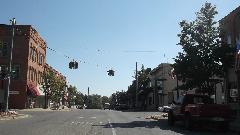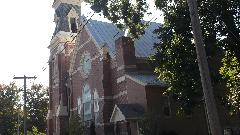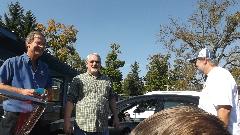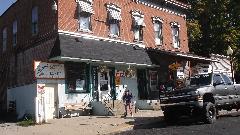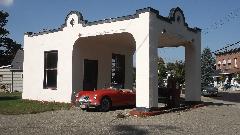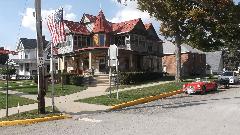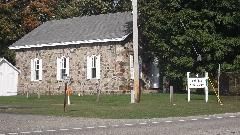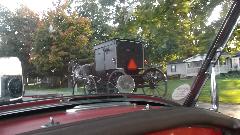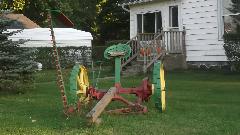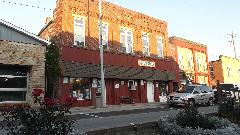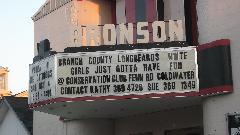 Tuesday, September 30, 2014: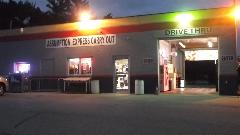 Travel day. Last day of the month, last day in Michigan, first day in Ohio just cruising today. Passing through Assumption, OH, at dusk. This is what you can do with an old service station when your town needs a new liquor store.