The MGA With An Attitude


MGA Guru Is GOING MOBILE - (July 12, 2014)
The 1903 Curved Dash Oldsmobile, Lansing, NY


Saturday, July 12, 2014: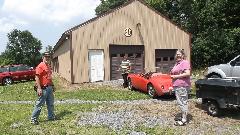 Arriving Lansing, NY, at noon to visit Roger Garnett. Let us get quickly to the real reason for my visit here with some urgency today. Roger has a 1903 curved dash Oldsmobile which he was trying to get running to attend a Horsless Carriage car show on Sunday, and I thought perhaps I could lend a hand.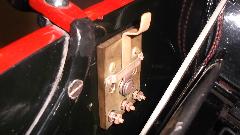 We spent a good part of the afternoon flushing the fuel tank with various solvents to remove some flaky varnish deposits. I spent some time cleaning the ignition switch with assorted levels of failure. I would have tried the commercial product CLR, but none was at hand. Roger's wife ultimately came up with the solution of vinegar and salt which did the trick nicely (along with a little brushing).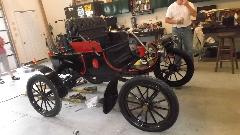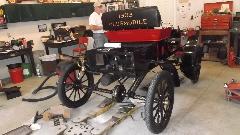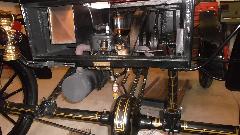 Think single longitudinal cylinder, large displacement, transverse crankshaft, large flywheel, hand crank shaft with one-way clutch and chain drive to engine crankshaft, compression release pedal, and slide vane carburetor.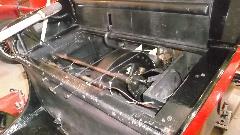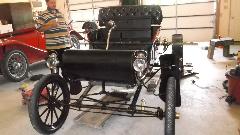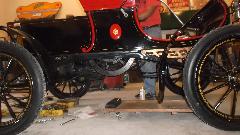 There is planetary drive with band brake for low speed, cone clutch for high speed, another planetary drive for reverse gear, chain drive to the rear axle. There is a crankshaft driven water pump, water reservoir high in the rear, radiator under the foot board in front, drip oiler over the lower cylinder and connecting rod area.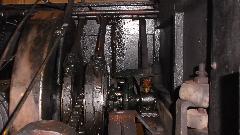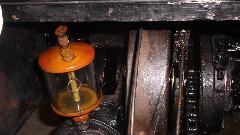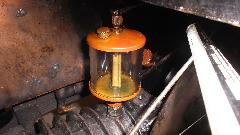 Buzz box ignition coil, installing fuel petcock and pipe underneath, mounting screws for the fuel tank.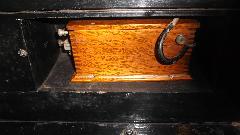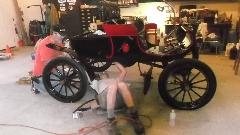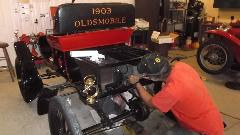 Installing the fuel filler pipe and cap, battery for ignition, re-wiring (five wires for the whole vehicle if you count the spark plug), oiling the drive chains. After installing cooling water and fuel, oil in the drip oiler, it was time for attempted starting. We got a couple of pops out of it, then notcing the buzz box was buzzing all the time, the commutator (similar to breaker points) needing some adjustment. Late evening and dinner time made it time to call it off for the night. Weather reports looking glum for the car show next day.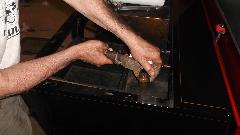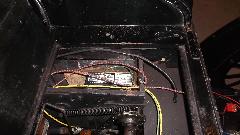 The last picture is another 1903 Oldsmobile driven by Rogers neighbor. It was here for example and comparison of how things go together. It got parked inside for the night. Rogers car may not be ready for prime time, but the other one is likely to go to the car show in the morning.

One week later, with some more time to tinker, it runs and drives.

First run - playing with adjustments on first start-up.
https://onedrive.live.com/redir?resid=3F5AC33088AA48E2!42097&authkey=!ALShBDI9ULwR5iw&ithint=video%2c.mp4

First drive
https://onedrive.live.com/redir?resid=3F5AC33088AA48E2!42099&authkey=!AHK6AkWu5nX0wt4&ithint=video%2c.mp4

Up the hill (Which I figured was a good challenge! After that I got it into 2nd gear too)
https://onedrive.live.com/redir?resid=3F5AC33088AA48E2!42103&authkey=!AJwBLA_fWshp-kA&ithint=folder%2c