The MGA With An Attitude
MGA assembly in DENMARK - CKD-103DK
On 15 May 2012, Jeffrey J. Bernhoft wrote:
"I have a 1958 MGA with a Dansk Oversoisk Motor Industri plate on the firewall".

On 17 September 2013, S.D.G. Stephan <!-bayerische_735il at yahoo.com-> in Florida, USA wrote:
"Just recently acquired an MGA .... as well as the usual VIN plate, is another one in Danish. It goes along the lines of "Dansk Motor.... with a second VIN number/ Engine number".

From beginning of production in 1955, MGA were imported into Denmark by DOMI (Dansk Overs°isk Motor Industri A/S). This company also had an assembly plant for (amongst other cars) the Morris Minor. Very few MGA were imported in 1955 and 1956 due to Danish registration restrictions. About 1956 the tax laws were changed, and MGAs were imported in larger numbers. Apparently no MGA cars were imported in CKD form, but the imported cars did have some unique features, among them the special Danish ID plate under the bonnet and a DOMI emblem placed conspiciously on the body.


Morris-DOMI assembly plant in Copenhagen


DOMI Advertisement


DOMI Vehicle ID Plate


DOMI Logo Badge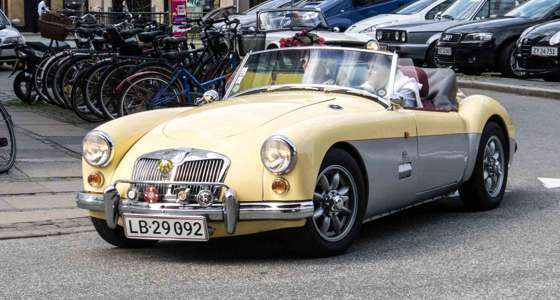 Special Side Marker Lamp required for Denmark