The MGA With An Attitude
FAN BLADE, Plastic Replacement - CO-104A
The radiator fan of the original MGA was of metal construction. With time, lightweight plastic became the preferred material for later model MGB, 1973-1976. Considering that the earlier steel fans would occasionally fatigue and break throwing a blade (often with some collateral damage), the MG factory saw fit to produce a light plastic fan as a replacement part for the earlier MGB and MGA. Moss Motors is now making an accurate reproduction of that replacement plastic fan (picture).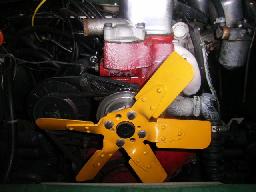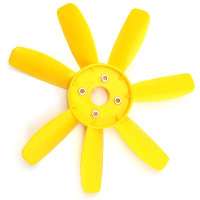 Original fan blade broken - - - Plastic replacement fan

The odd blade spacing on the plastic fan has method to the madness. This interrupts the otherwise regular resonance frequency of the air pulses to reduce fan noise. Better air foil shape of the molded plastic blades is also more efficient for producing more air flow. It may look a little quirky, and may not pass concours muster, as it was not original issue for MGA. It is however a period correct replacement part, for a period a few years after end of production of the car model.

More information at
www.mgaguru.com/tales/mobile24.htm#fan
www.mgaguru.com/tales/mobile29.htm#fan
www.mgaguru.com/mgtech/faulty/ft080.htm
www.chicagolandmgclub.com/techtips/mgt/cooling.html

Please also see article CO-208 about 6-blade plastic fans.