The MGA With An Attitude
FUEL GAUGE CALIBRATION -- FG-102
FG-102 is a course in calibration of the MGA fuel gauge to make it read properly. I have gone through a considerable amount of tinkering to figure out the easiest way to field calibrate one of these instruments, and I would like to share some of the fun and success with a detailed review. If you're the impatient type who cares not for the whys and wherefores you can jump right to the conclusion by poking this link: Shortcut now. Or if you're the curious type who likes to learn new things, just keep on reading in sequence and enjoy the browsing.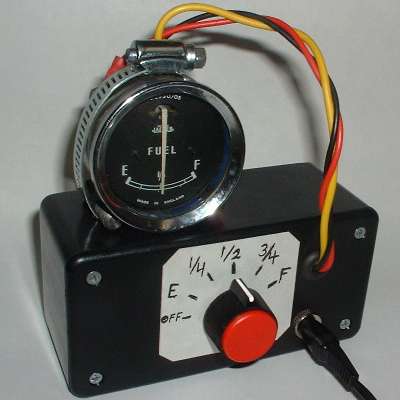 MGA fuel gauge test box, front view.
Serial Picture Tour For Calibrating The MGA Fuel Gauge:
Just follow the green arrows.

| | | | |
| --- | --- | --- | --- |
| Inside rear view of test box details. | Power on and emulating a full tank. | Switched to 3/4 tank. | Switched to 1/2 tank. |
| Switched to 1/4 tank. | Switched to emulate empty tank. | Switched to disconnect sender. | View with power disconnected. |
| | | |
| --- | --- | --- |
| One resistor=full | Two resistors=half | Short wired=empty |