The MGA With An Attitude
SPRING PANS Too Narrow -- FT-077
Bad fit with related Safety Hazard
Replacement for BMC AHH5925
From Leachy Classics and from MGOC (MG Owners Club)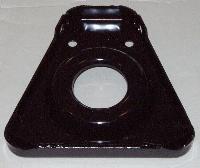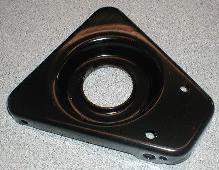 Early part number 126905 did not have holes for Anti-Roll-Bar links.

New part number AHH5925 Com.(c)66574 (Com.(c)2275 for Twin Cam) does have holes for ARB links. This part is required for installation of factory style ARB.

The faulty replacement part is about 4-mm too narrow, leaving empty space between the spring pan and the wishbone assemblies (A-arm side brackets). This can be a safety hazard when the securing bolts are not fully tightened. Properly tightening the bolts would result in bending of the wishbone brackets, misaligning the inboard pivot points, misaligning and/or bending of the outboard ends of the wishbone brackets at the lower trunnions.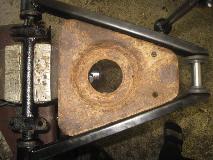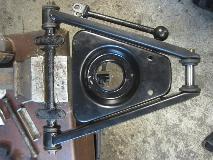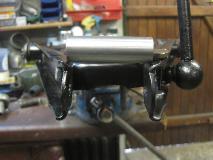 Side brackets with original spring pan, fits great.
Side brackets with new spring pan, leaves large gaps.
New spring pan, leaves no space for the trunnion.

The first faulty spring pans discovered were procured from Leacy Classics in the UK (as reported by Dominic Clancy in Switzerland on 21 November 2015). After report and objection, the purchase price was refunded. MG Owners Club apparently has the same source for these parts. Their reaction was "Just tighten them up hard".

I do not know yet which other parts suppliers may procure these parts from the same source (identically faulty) or which suppliers might have good parts.

On 1/15/2016, Ernie <!-Ernieyork at yahoo.co.uk-> in the UK wrote:
"My order date was Jan 4th, 2016, and like Dominic, Leacy immediately credited my A/C without requiring the return of the pans".