The MGA With An Attitude
Brake Shoe ANTI-RATTLE SPRING Hook Too Long -- FT-079
Moss Motors USA part number 181-340
Replacement for BMC 301020, AAA4714
Used on: MGA 1500-1600, AH Sprite/MG Midget, MG TC-TD-TF,
Jaguar XK 120-140, Morris Minor, Triumph TR2-3-4


This one has been nagging us for a long time. The little retaining spring used to secure brake shoes to the backing plate is a killer to install. The little squared off hook is too long. When attempting to compress this spring to hook it to the back plate, one of two things may happen. Commonly the hook will hit the back plate before it clears the bracket it connects with. In my case the spring coils appeared to go to solid height before the hook would clear.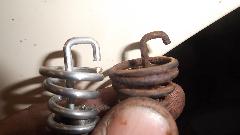 Moss Motors has an information sheet on this part to tell customers to trim the length of the hook. In my case the part came as part of a brake rebuild kit, and the information sheet was not included. This leads to great frustration for the customer, having a part that cannot be installed and not knowing why or how to fix it. For overall efficiency it makes MUCH MORE SENSE if the vendor would simply fix all of the parts en-mass before selling them, rather than making every individual customer suffer through the learning curve and having to repair the new parts one at a time before they can be used. Apparently Moss will never see the light on such issues, refusing to fix it before sales, and making the customers suffer accordingly. They do the same thing with many parts, just publish a paper saying we know it's a bad part, so lump it. This is one of my pet peeves that will never go away.