The MGA With An Attitude

PAINT CODES, MGA Other Than Body Colors - PT-105B

CONVERTIBLE TOP FRAME - Tan
Moss Motors USA, "Tan Top Frame Paint" - 220-520
Moss Motors UK, "Tan Top Frame Paint" - CCHP1
Krylon "Khaki Gloss"


COOLING FAN - Safety Yellow: MGA, MGB, Midget Fan & Pulley
Duplicolor - T-211 or DA1663 - School Bus Yellow
International Harvester - "I-H Yellow" (used on Cub Cadet Mowers)
Rustoleum - "School Bus Yellow" - SKU: 1643830
Rustoleum - OSHA - Safety Yellow - 1644830
RAL color standard - "Broom Yellow" - RAL1032


DASH MIRROR - General Motors 2410 M: General Motors 2410 M is close to the original color. Ford 3572 is a bit too brown and Chrysler 4666 L is too yellow. If you are careful, you can spray the Chrysler color first and then a light coat of the Ford to kill the yellow. The Chrysler 4666 is also a good match for the MG T-series mirrors and steering wheel bosses. All these colors are (maybe) available in small spray cans at auto supply stores. -- Also try Blaze Gold Metallic for a 2000 Honda.
See PT-105M.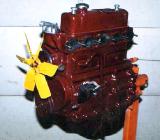 ENGINE - MG Dark Red engine paint:
MGA, & early MGB
NOTE: Enamel is generally resistant to engine related fluids. Lacquer will commonly spot or streak or discolor when exposed to glycol based antifreeze. Some aerosol paints may be lacquer unless otherwise specified.
See PT-105E.


SCREENWASHER BOTTLE BRACKET


- "Tudor Blue" - Named after the accessory manufacturer, Tudor - Similar to "Royal Blue"
Krylon - 3107

WHEELS - Silver wheel paint
Ford Silver - DAR-2593
Ditzler Delstar - Code #16
Eastwood - "Detail Silver"
Moss Motors "Wheel Paint" - 220-560 Subaru code 9985 - "Jewel Silver"
Moss "Silver wheel paint" - 220-560 (Moss Motors Ltd)

The SHELLY JACK - orange-red
Came with later production MGAs
Duplicolor - DE 1607 - Chevy Orange