The MGA With An Attitude
TWIN CAMS from the Production List - TC-107-551

YM1.551 (Reg.No. 9915NO) and YM1.552 (rego unknown)
Both cars were last known in UK 25+ Years Ago


It was thought for some time that YM1.551 and YM1.552 were at the 1958 Earls Court Motor Show, but current information contradicts that. Original delivery to "G.R. Holt" (551) and "J.R.J. Mansbridge" (552) listed in factory records.

From Autocar 24 Oct 58 (p 559):
M.G. -- 154

A white fixed-head coupe with wire wheels, and a red [Pushrod # 56686] open two-seater with a number of accessories are the two models of the M.G. MGA on open display on the stand. There is also a partially sectioned model of the MGA Twin Cam Coupe. It is finished in sandy gold with the roof in powder blue, and a yellow interior. This car is on a revolving turntable, and cunningly arranged mirrors show the chassis details. The standard MGA, powered by the M.G.-tuned B.M.C. B-series engine, is undoubtedly one of Britan's most popular sports cars, and it is not surprising that it is to be continued without change for 1959.


As last year, a Magnette is on show to which Perspex boot lid and bonnet have been fitted, enabling visitors to inspect the engine and luggage compartments without raising the lid. This car is finished in an attractive shade of steel blue. There is another Magnette with optional extra Varitone paintwork, beige over maroon. Both the Magnettes and the left-had drive MGA coupe have whitewall tyres.
M.G. Car Co., Ltd., Cowley, Oxford.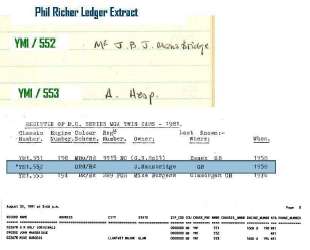 Meanwhile we have a Phil Richer Ledger entry for Twin Cam YM1.552 showing owner J.Mansbridge in GB in 1958. J.B.J. Mansbridge was a car dealer in Lincoln (Lincolnshire). In case this might jog someone's mind, do tell.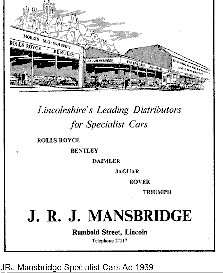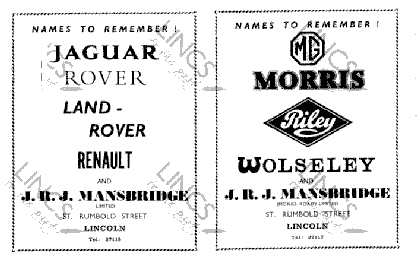 ---
Essex County Council
Essex Record Office
Wharf Road
Chelmsford CM2 6YT

Our ref: GS203/09
Date: 21 October 2009

Abstract of an entry in a Vehicle Licence Register
Register reference number E.R.O. C/DF 11/298

Vehicle registration number: 9915 NO
Name and address of owner: J.A. Calton, 4 De Beauvoir Court, North Church Road, Islington N1
Class: Pte (Private)
Make: M.G.
Chassis number: YM1/551
Agent or remarks: W. Jacobs, Chigwell
Date Registered: 20/09/1958

---
Note that this is all the information which is given in the register

---
---
At Thu, 17 May 2012 09:52:03 +0100, Richard Bacchus wrote:
"I'm afraid the records don't specify 'motor show cars', however individual names have been written in the records, which is unusual, 551 has 'G.R. Holt' and 552 'J.R.J. Mansbridge'. .... 553 has another name above it 'A. Hesp'.
....
Regards
Richard Bacchus
Certificate Officer
British Motor Industry Heritage Trust
Heritage Motor Centre
Tel: (01926 645076)
Fax: (01926 641555)
Email: (rbacchus@heritage-motor-centre.co.uk)