The MGA With An Attitude
PROTOTYPE Twin Cam - TC-108-499

Twin Cam Prototype - YDL/14/499 -- PJB 147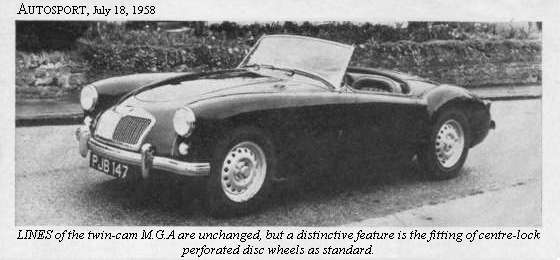 Pictures below from Safety Fast, January 1983.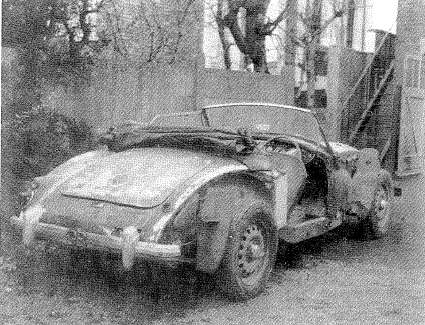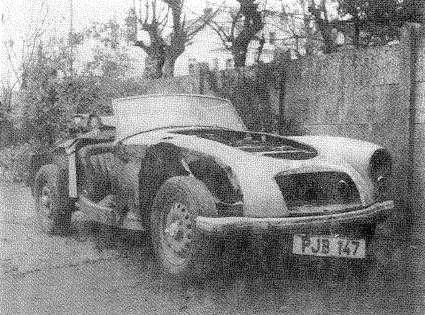 Saved from total loss -- Doug Brierley's ex-works demonstrator YD1 502.
PJB 147 will next be seen close to or better than her former known glory.
This caption from Safety Fast, January 1983, is apparently in error. In Safety Fast, October 1985, another note appeared indicating this car is most likely not YD1 502. Additional conjecture implies that this car may actually be a few serial numbers earlier, being one of the three prototype Twin Cams.

DVLA still show's it as being registered (but this number may or may not be the same car) .

Date of Liability 01 12 2005
Date of First Registration 11 12 1981
Date of Last V5 Issue 06 10 2003
Year of Manufacture 1958
Cylinder Capacity (cc) 1600CC
CO2 Emissions Not Available
Fuel Type Petrol
Export Marker Not Applicable
Vehicle Status Licence Not Due
Vehicle Colour RED

Also review notes at: TC107-502.htm - TC108-500.htm - TC108-500A.htm

2 RHD and 1 LHD prototype cars were supposedly built. ORX885 is the other RHD car and it bears car number 500. PJB.147 appears in lots of promos for the Twin Cam and was black with black.

---
Addendum, January 12, 2006:
The owner of this car: YDL/14/499 -- PJB 147 has surfaced. There are now two confirmed prototype Twin Cams. YDL 14/499 and NDL/13/500.

Since we contacted DVLA they spotted two cars with the same chassis number and contacted the owner(s) and resolved it.

---
Addendum, March 7, 2006:
First photo from current owner. Car No..YDL/14/499 with number plate PJB 147
Word is that he has plans to restore it starting in about a year when he retires.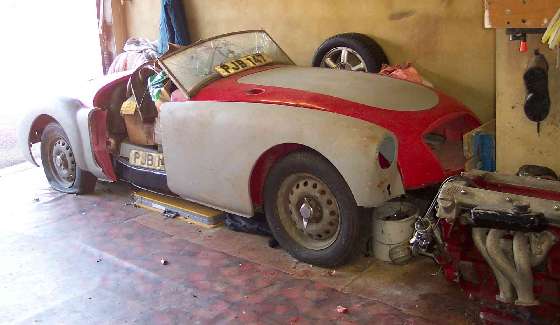 ---
For more information check out the web site of the new owner, July 2006.
Mark Hester, Perth, Australia (or London UK) - markhester@hotmail.com http://myweb.tiscali.co.uk/hesterracing/PJB147/PJB147.htm
And the web page detailing the restoration work finishing in April 2015:
http://myweb.tiscali.co.uk/hesterracing/PJB147/Restoration/PJB147-Restoration.htm

---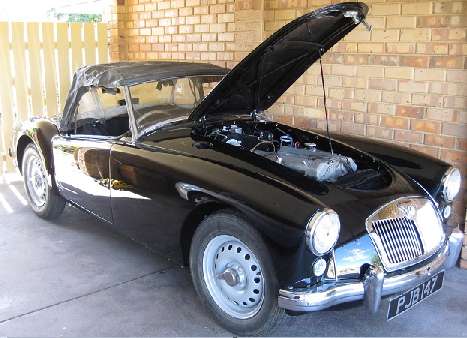 Restoration finished, April 2010

---
Just for fun, here are a couple of period magazine ads featuring PJB147.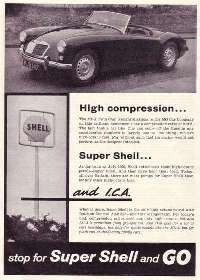 ---
PJB147 may have been on hand for Demonstration Day for launch of the Twin Cam model. See details and more PJB147 pictures for Demonstration Day.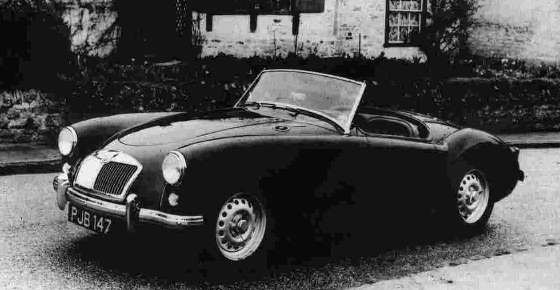 Photo of PJB147 used on Press Release package.


Same picture used in Autocar article (top of page).

---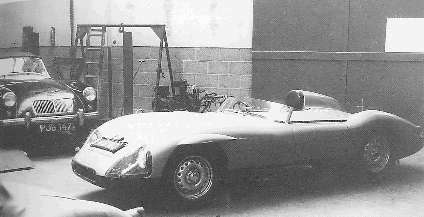 This picture of the 1958 Le Mans contender (never raced) EX-186 was taken inside the Abingdon works by Dennis Williams, who worked in the drawing office. The knock -on Twin Cam wheels are light alloy rather then steel and the exhaust exited at the side. PJB 147 (on the left) was a press demonstrator. Click for larger image.

---
Addendum 1/11/2011: Some YouTube videos for this car:
First start of the rebuilt engine
Engine running
First test drive after restoration

---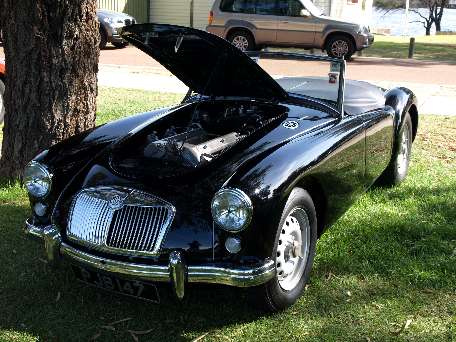 PJB strutting its stuff at MGCC concours, February 2012