The MGA With An Attitude
MGA Developement "Hack" 1954-1963 - VT-101C
KMO 326 - GHD109071 - (Originally EX-197)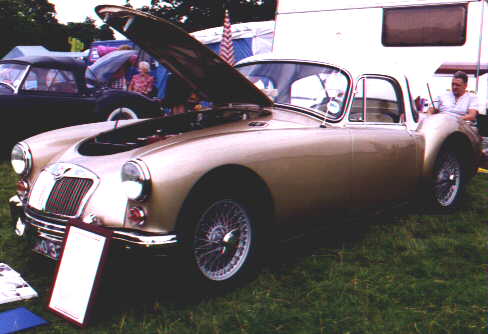 Current owner is Jim Todd - 01482 329045


SPECIFICATIONS.
Engine Size.....1842cc (Blue Print Engine)
Power Output....120 BHP
Engine No. SPL/445H/1600
Chassis No. was originally EX/197, later restamped on leaving the factory in late 1964 as GHD109071 (this number being one after the official production ended).

This was a factory prototype and development car. Rego No KMO 326 was first registered in late 1954. The car began life as a Tyrolite Green 1500 roadster, later modified with a Coupe roof added (apparently fine tuning details for the production Coupe), then rebodied as a 1600 model and painted gold with a white top. It went through many developments from 1500cc to 1600cc then 1622cc and finally to it's current specification 1842cc. for MGB development. The car then went on to high speed duration testing on the German Autobahn running with MGB front calipers special cooling and exhaust systems for a continuous duration of 10,000 miles at between 5800 and 6000 rpm in top gear.


Unique specifications include:


Adjustable shock absorbers


MGB brake calipers


Anti tramp bars


Large oil sump, special baffle


Large Hobourn-Eaton oil pump


Ultra lightened flywheel


Special cylinder head


Rocker shaft and supports


Smiths thermomatically controlled cooling fan.


Full magnolia hide trim including all leather door panels, rear parcel shelf and dash panel. (Standard coupe's are fitted with PVC trim panels).


A unique colour of Gold metallic main body with a pearlescent White roof.

The colour and trim was specified by Syd Enever, Chief Design Engineer for the Abingdon factory and the designer of the MGA. This car was also personally owned by its designer Syd Enever and his son who raced it a Brands Hatch and Silverstone etc. in the early 1960's with great success. In later years the car was successfully Hill Climbed by Peter Cornwall, again with many outright wins in it's class, including the Lands End and Trans-Pennine to name a few. A final finishing touch are the interior courtesy lights and special unique steering wheel manufactured by El-Nardi (the makers of Ferrari steering wheels in the 50's & 60's). When the car was finally sold on to the public in 1963 the prototype number plate was replaced with a production type plate, and it was given Car No GHD109071, being one digit higher than the last production MGA. So this car appears to be the first MGA roadster, the second MGA Coupe (the first one noted on the following page), and the last MGA to be sold to the public (with the highest chassis number).

See Experimental MGA -(0.8-MB pdf) -(history section)