The MGA With An Attitude
MGA Coupe Prototype 1956 - VT-101C1
ULJ 426 - 13355 - (Developed from a production roadster)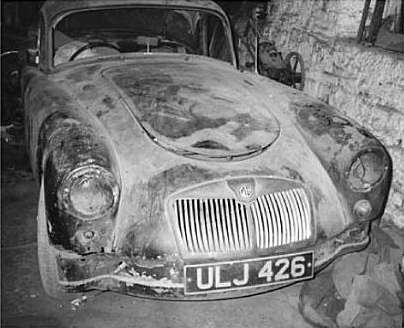 A production MGA 1500 (black) was taken from the assembly line in March 1956 and was used to develope the first MGA Coupe prototype. The rear quarter windows have angular edges, the C-pillars differ from those on production cars, and the doors look like highly modified roadster units. Inner fenders have been modified to fill holes originally stamped for roadater windscreen posts, map pockets were aluminum, and the door trim gutters were wider than those of production Coupes.

The Coupe was relatively slow to get into production. The first three production cars in October 1956:
20671 Red/Black, went to UML London for display
20672 White/Black, went to London Motor Show for display
20673 Green/Grey N.A. spec, went to to Nuffield House for display

21210 First press demonstrator -- November 1956

This car was featured in the October 12, 1956 pre-London Motor Show issue of The Aurocar. It was dispatched from the factory on October 29, 1956 (desitination unknown). In early March 1957 it was delivered to Knott Brothers Garage in Bournemouth where it was registered ULJ 426, and used as a demonstrator. The following August it was sold to Garnet William Lambert for his grandson. Three years later (1972) the car was sold to Steven Tooby, the 14th owner listed in the DVLC log books. In the mid 80's the car was bought by a Lincolnshire MG owner, then passed on to Mark Czornopsyky who finally had the car restored to its origial configuration.

On 11 August 2017, John Bray in Bedford, UK wrote:
"According to the Government website,
https://vehicleenquiry.service.gov.uk/ViewVehicle
It looks like the car was due to be taxed on 1st June 1978. but this wasn't done. The registration number is still in use and the car appears to have not been declared as off road. Interestingly the engine size is quoted as 1622cc rather than the usual Twin Cam 1588cc, so it may have had a replacement engine fitted".