The MGA With An Attitude
NON-MG PRODUCTION VARIANTS - VT-103D
Datsun 1000

One of the more improbable variants of the MGA (perhaps a bit of a stretch), the Japanese built Datsun 1000 carried a de-stroked version of the Austin B-series 1500 engine with only 998cc displacement. But it was similarly "the first of a new line" enhancing the future lineage of Datsun Motors. It made its North American debut at the LA Auto Show in 1958.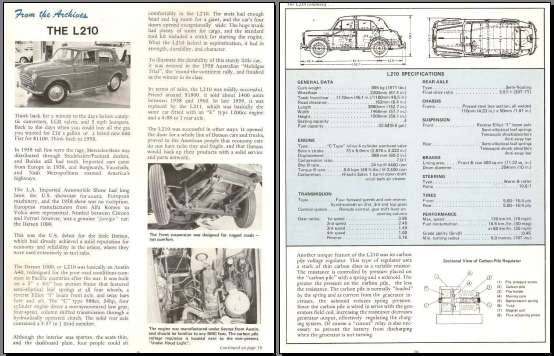 There were a variety of Datsun vehicles to follow based on the same basic engine block, including the Datsun 1200 pick up truck. The "Fairlady" SPL211 Roadster made it's debut in 1959 along with the "Bluebird" PL310 sedan (plus station wagon and pickup truck).

| | | | |
| --- | --- | --- | --- |
| Datsun 1000 - 998cc | 1200 p/u - 1200c | S211 - 998cc | 310 - 1200cc |
| SPL212 - 1200cc | SP310 - 1500cc | SR311 - 2000cc | 240Z - 2400cc 6cyl |

The S211 Roadster evolved into the SP212 Roadster, then into the SP310 Tourer (newer body style with roll up windows), commonly known as the Datsun 1500. This one debuted at the Tokyo Motor Show in 1961. As a side note, you might notice that the S211 and SP212 seem to get styling queues from the Austin Healey 100. The SP310 definitely gets styling from MGB, to the point of significant parts interchangeability (a year before MGB hit the market), but the Datsun had 13-inch wheels and all drum brakes.

Next in line of the sports cars came the SP311 in 1961, commonly known in North America as the Datsun 2000. This definitely looks like a continuing family member, but the engine was much different, being a larger 2000cc overhead cam unit with a 5-speed gearbox. This car was capable of cruising at 120 mph near red line in 4th gear (a little slower in overdrive 5th). While it does not use the same Austin derived engine, I mention it here because it represents the ongoing evolution of this line the Datsun sports cars. The better known follow on sports car was the S30 in 1969, sold in Japan as the Fairlady Z and in other markets as the Datsun 240Z (later 260Z and 280Z). And it all started with a derivative of the Austin B-series engine, borrowed from MG ZB Magnette to power the MGA.