The MGA With An Attitude
Special Bodies on MGA Cars - VT-106K
Buchanan body kit
The N.H. Buchanan Motor Co. Pty. Ltd from Australia made at least two fiberglass bodies using an MGA-engine and one on an MGA-chassis.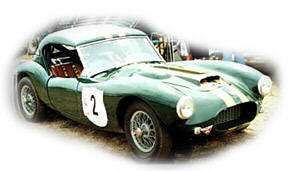 The red car below is a Buchanan body. This one appeared at the Sydney MG Concours in 2008 (photos supplied by Thomas Aczel). <!- Aczfam at tpg.com.au ->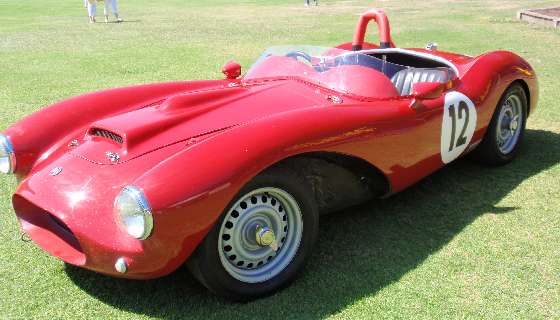 The car is one of the last Buchanans built, and since the photos were taken, it's been badly damaged in an "off" at Oran Park racing circuit (outskirts of Sydney ). The chassis is OK but the body is virtually beyond repair. Fortunately the owner, John Barnett, who now lives in Mittagong (about 80 Km out of Sydney) happens to own all the surviving Buchanan moulds and he's currently "laying up" a new body for the car! (3/11/2010)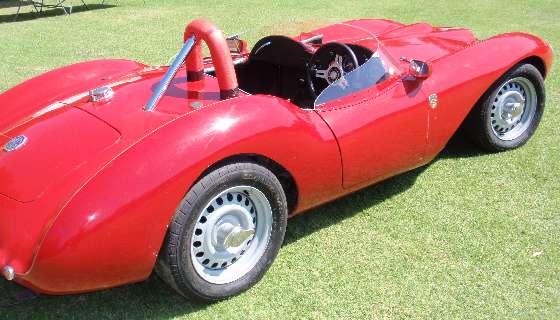 The car is built on an MGA chassis. The body is so low that it just comes up to the goalposts. It has a 3 bearing MGB engine and an MGA gearbox. The front suspension employs MGB swivel pins with the shocks packed to match. The wheels in these pictures are Ford Falcon, to which spline drive hubs have been welded. The car runs the Ford wheels for racing and wire wheels at other times.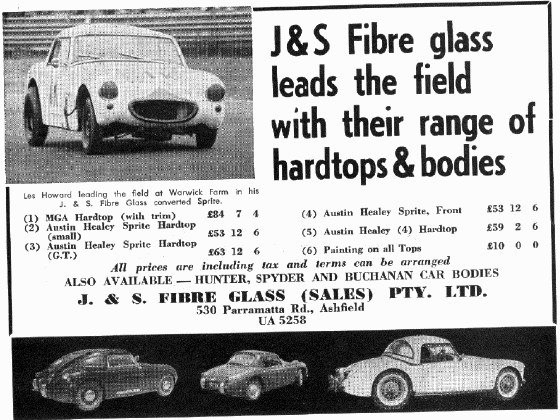 This advertisement from Sports Car World special volume "Worlds Fastest Sports Cars", 1961.

On 6 December 2014, Ian Hazeldine <!-ian.hazeldine at yahoo.com.au-> wrote:
"The Buchanan photographed at the 2008 MG Sydney concours was based on Tom Sulman's Aston Martin DB3/S. In Feb.1954 he raced with Buchanan in the Mount Druitt 24hr race driving a Humber and came 3rd. In 1955 he raced as part of the Kangaroo Stable race team in Europe and the South Pacific driving the Aston Martin DB3/S 1956-60 and came 2nd in Jan'58 in the South Pacific Championship. That car was used by Buchanan to form the moulds that the Buchanan cars were based on. A dedicated web site for Buchanan cars lists the bodies manufactured and the chassis /engine combinations used and also provides a history of the company".
http://www.buchananmotorcompany.com/Buchanan history.htm

On 06 Dec 2014, John Barnett <!-kcjb at bigpond.com-> wrote:
"I don't know much of my cars history other than it has always been mainly a race car but was always registered for the road. My association with it goes back about 14 years. I have fitted the new body I have made but not painted it yet. I have also made a new set of moulds using the old moulds. The old moulds were made by Nat Buchanan in about 1958. He was able to use the Aston Martin DB3S that belonged to Tom Sulman. He and Tom were friends and they raced cars together. These original moulds were used to make only the first few bodies at which time Nat began to change the cars I suppose to put his own "signiture" on the body's looks because he then called them a Buchanan. He made about 100 bodies. Some were used to make turn key cars others were sold as kits. He eventually sold all his moulds to J&S who only sold them as kits. They also made another sports car called a Hunter.

"A friend of mine watched Nat building his cars as my friend worked upstairs for a different company that made radiograms. Nat had a 'stand' at the Sydney Motor Show on at least one occasion. I have a photo of this. The first few bodies he made were exact copies of the DB3S. As time went on he tended to build the bodies to fit the MG TD. A magazine article was written where they showed the fit out of one of these cars. I do have some original articles. Unfortunately articles written more recently often have errors. I could take a photo of the cars progress. I have not fitted those wheels as when the tyre went flat at Oran Park the car went off into a concrete wall hitting the ripple strip with the deflated tyre damaged a wheel very badly. Have wire wheels on it now".