The MGA With An Attitude
Special Bodies on MGA Cars - VT-106L
Ashley 1172 body kit(s)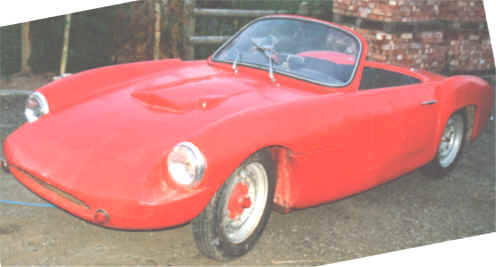 The company was originally Ashley Laminates Ltd formed in 1955 with factory at Robin Hood roundabout at Loughton in Essex, UK. A few body designs later in August 1958, Keith Waddington launched the Ashley 1172. It was initially designed as the Ace Roadster for the Ford 8 and 10hp frames of 7'6" wheelbase, for which there was then a broad market. It is not known if this body was ever installed on a complete MGA chassis, but it is certainly the right size at 92-inch wheel base.

There is documentation of one 1172 body on a light Fairthope chassis with MGA 1500 engine. The engine, gearbox and rear axle all date from 1959 (or more likely late 1958), so appear to be original issue and most likely all new parts at the time. With tuned engine it was reputed to do over 130 mph. Photo below is a 1172 in Coupe body form.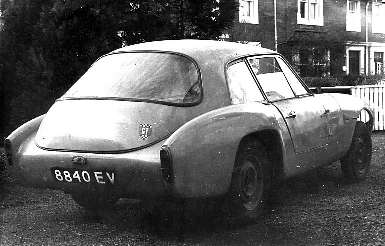 On 12/19/2014, Richard Rojek <!-richardsrojek at aol.co.uk-> wrote:
"On your page VT-106L there is a photo of my car 8840 EV. It was built in 1959 with a 1500 MGA engine and gearbox, based on a Fairthorpe Zeta chassis and is fitted with an Ashley Laminates body. The car was constructed by Stanley Ayris using new components. The choice of body allowed him to accommodate his wife and baby son. During the restoration I kept all the original parts including the engine and gearbox."

On 12/20/2014, Richard wrote:
"I have enclosed a picture of my car at the Goodwood Revival this year. I don't have a recent photo of the rear of the gearbox, the best I have is this very old one. You will notice I have replaced the original remote control with an Austin one which moves the gear lever forward to give me an improved position.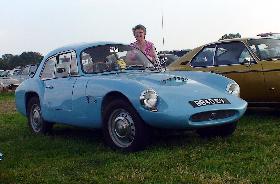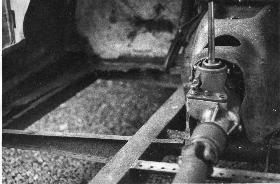 Engine is 1500cc; the number is 15GB W/H 51712 with the low starter. The car was registered in October 1959 however the builder would have commenced work before that date which would account for the earlier engine.